Edenred - Best Employer in Romania for the third year in a row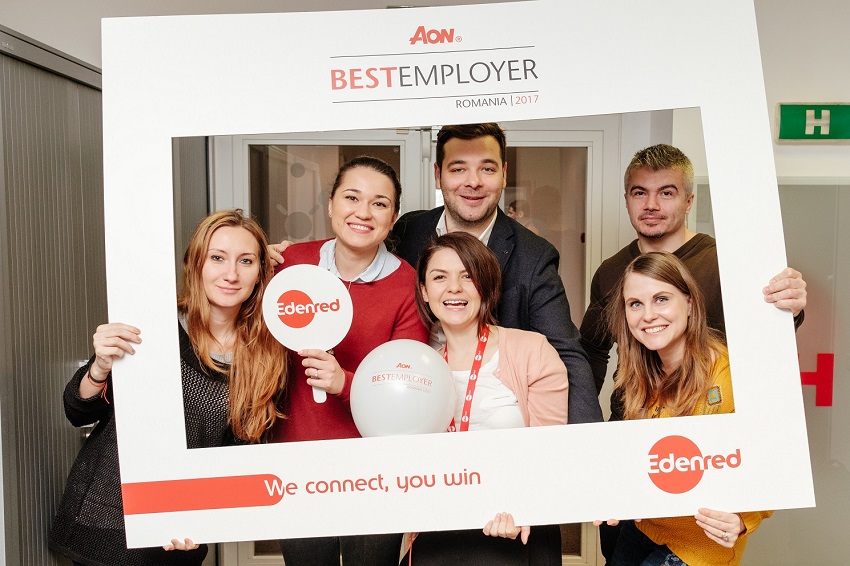 Edenred Romania, the biggest issuer of prepaid vouchers and cards for companies and employees, was designated, for the third year in a row, one of the best employers in Romania, according to the Best Employers study, performed by Aon Romania. The generous benefits, the autonomy and the reliability in the organization are among the criteria that make the difference. Edenred provides its employees very generous packages of fixed benefits, which are 80% over the market average in Romania. Among them, we count meal cards, gift cards both for employees and for their children, and holiday vouchers. In addition, employees have access to other 10 alternative packages of flexible benefits, which cover each and every one's needs and preferences, in fields such as health, culture, or sports. Irrespective of the tangible benefits, employees participate in training and coaching programs, and sports events, charitable or social events organized by the company. They are encouraged to follow their passions or to support social causes that they believe in. The sports championship organized by Edenred has already become a traditional event for employees and clients. Last but not least, Edenred is the promoter of a balanced lifestyle at work, through simple gestures integrated in the daily life, such as the daily lunch break. Within the Best Employers study performed by Aon Romania, Edenred has recorded a high degree of satisfaction and involvement of the employees and a very high response rate in the survey, 99% of the employees, as well as the highest engagement score, during the three years of participation, 82%. 
"Motivated and involved employees are the dream of any employer, but this is not easy to achieve. During the last 3 years, we measured the employees' degree of involvement and they were requested to tell, themselves, what makes the difference, from their point of view, and this helped us make a customized and authentic engagement plan", states Dana Sîntejudean, General Manager of Edenred Romania & Moldova. The Best Employer study was performed in the period between 4-8 September 2017, through an anonymous survey, to which more than 25.0000 employees of the 41 participating companies have responded. The results were presented to the public during the Aon Best Employer Gala, on March 22nd 2018. Edenred Group operates in 45 countries and has almost 8 000 employees. In Romania, the company counts 145 employees and it is the promoter of quality professional life principles, as essential element for the success of any employer.