Edenred Romania launched Apple Pay mobile payments for digital meal vouchers
Edenred Romania, the largest issuing company of cards and benefits vouchers for employees the global leader in payment solutions for the working world, launched on June 26 the Apple Pay service for its digital meal vouchers issued in Romania.
Edenred Romania issues Ticket Restaurant® branded cards and tickets for almost approximately 1,300,000 employees in Romania, and 1 million of them opted for digital meal vouchers on cards.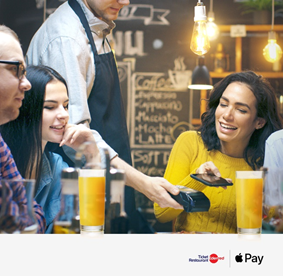 Meal vouchers digital payments through Apple Pay include enrolling the Edenred Ticket Restaurand® card within the Apple Pay Wallet app. The eligible devices for these payments are iPhone SE, iPhone 6 and updated versions, iPad Pro, iPad Air 2, iPad Mini 4, iPad Mini 3 and iPad 2017, as well as all versions of Apple watches.
Ticket Restaurant® users can make mobile payments via Apple Pay by simply approaching their Apple device by the contactless POS terminals available in the Edenred merchants network. For merchants, the new service does not involve any additional developments or investments.
Payments through Apple Pay bring added comfort and safety, because card details are never stored or shared on the phone, tablet or watch used and are never communicated to merchants where payments are made. Apple Pay generates a unique number for each transaction in order to keep the security and confidentiality of the payment.
Edenred Ticket Restaurant® card users made over 31.64 million transactions to partnered merchants in 2018, with 83% more than 2017, when there were registered 17.24 million transactions.
More than 90% of the Edenred electronic meal voucher payments in Romania are contactless, a strong indication that their users are ready for mobile payments. 
"We are very proud that today's 1 million Edenred Ticket Restaurant® users are the first in Romania to make mobile payments with meal vouchers, gaining added comfort and safety. The Edenred employee benefits eco-system is today mostly digital, and the first addition of Apple Pay is a new step forward." says Dana Sîntejudean, General Manager of Edenred Romania & Moldova.
Edenred is the world's leading provider of payment solutions for the working world, connecting 830.000 companies and customer organizations, 47 million user-employees and 1.7 million partner traders from 45 countries. In 2018, the Edenred Group handled 2.5 billion transactions, mainly through mobile apps, online platforms and cards, accounting for more than € 28 billion in business volumes.